Latest News 26/11/21
The 99-year-old cyclist who has won a world silver medal
Kenneth Judd may be 99-years-old, but he is a cycling tour de force and a growing media star. Featured on local, national and international news platforms, his exploits at RBL Galanos House have created quite a stir.
The almost centenarian last month gained a silver medal in a global cycling competition that had more than 5,000 entrants. To win second place Mr. Judd pedalled 2,348 miles (3,779 km) over 26 days. That's an average of more than 90 miles per 24 hours, a distance that many of us of a younger age couldn't cycle in one day, let alone for another 25 in a row.
While he cycled, Mr. Judd was able to enjoy quiet country lanes in his native Yorkshire, and the Lake District. Yet he was actually moving on the spot, using a high-tech exercise bike at a care home in Warwickshire. Now in its fifth year, the worldwide event is called Road Worlds For Seniors. Open to elderly people, and those with dementia, participants cycle on stationary bikes made by Norwegian firm Motitech.
The cycling machines are connected to a laptop or other computer, which in turn is linked to a TV or monitor. So when the user cycles they see themselves moving through the scenery on the screen.
This sort of technology has been available in gyms, and for home cyclists, for a number of years, but Motitech's Motiview system is aimed specifically at older people and people with dementia.
The idea is that users cycle along to a video of the roads, or streets, near where they lived as child or young adult, so that they get both physical and mental exercise.
They, or their care worker, can also pick from a number of accompanying song playlists compiled by music therapists to also help inspire them to keep peddling.
The Road Worlds For Seniors event is supported by British Cycling, the sport's governing body in the UK. This year's competition took place from 6 September to 1 October, the winners were those who cycled the furthest over that time period – the system records their distances.
This was nonagenarian Mr. Judd's second time entering the event. A pilot in World War Two, he came seventh in the 2020 competition (Covid-19 did not stop it), and he has been training on a Motiview bike ever since January for this year's race.
"I wanted to do better than last year, and so I worked out how many kilometres and hours I'd have to do each day," he says.
"And I did the cycling when no one else was around, late at night, or early in the morning. The night staff were good at bringing me drinks, although my tea would end up being cold as I focused on cycling.
"You've got to concentrate on your speed and how far you're going. Sometimes I watched Yorkshire, and others – areas of the Lakes."
13/11/21
RBL Maurice House Armistice Day 2021
Maurice House commemorates Armistice Day in style. A wonderful and poignant day for all concerned.
12/11/21
RBL Galanos House has an Armistice Day to remember.
The Galanos House Family came together yesterday to commemorate Armistice Day. The annual service, such a huge part of their year, was once again the perfect tribute for The Armistice; an agreement to end the fighting of the First World War as a prelude to peace negotiations, beginning at 11am on 11 November 1918.
Subsequently, a previously filmed segment at Galanos House featured on the BBC2 programme "It Takes Two". Being part of the extremely popular series "Strictly Come Dancing" a fantastic way to finish Armistice Day as the residents gathered in the bar to see how well they had done. You can view the video here, the GH clip starts at 15:36 Strictly: It Takes Two
---
In an exciting development, RBL St James's Branch has agreed on a formal affiliation with all of the Royal British Legion's six care homes.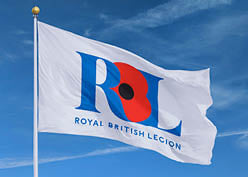 The homes, including five with specialist dementia care, are designed to be a home from home for our residents and visitors. They have created warm and welcoming atmospheres, with spacious rooms, beautiful outdoor spaces and relaxing lounge areas. As care homes designed for veterans and their families, there is also a unique camaraderie and their residents often establish strong friendships and bond over their shared experiences.
The Affiliation.
As part of the affiliation, RBL St James's Branch will be designating substantial funds annually, to support all the amenities teams in achieving satisfactory funding levels. The Operations Directorate along with the Head of Care Services will field all funding requests to St James's and prioritise them by the perceived benefit to our residents. This will ensure that we will be able to target funding more efficiently.
Just as importantly this page has been created to enable all of our care homes to promote their award-winning initiatives, the unique events and activities they provide for their residents and demonstrate why all our homes have a unique place in the care and support of our veterans along with their families.
Whilst this affiliation does not supersede any relationships that any care homes have with RBL Branches local to them, it does offer membership to our residents/families should they want to join the Royal British Legion where there is no local option available.
We hope that we have many opportunities to tell our members about the countless stories that reinforce the notion that the Royal British Legion Care Homes are amongst the very best in the sector.
Regards,
Editor
---