16/08/22
A New & Innovative Royal British Legion Branch!
RBL Galanos House has started the process of establishing an RBL Branch on its site in Southam. It will have a permanent home in The Community Hub & Café adjacent to the award-winning care home.
The first part of the process is to establish interest and support for the new branch within the Galanos House community, the surrounding towns and villages, along with the wider RBL. The Royal British Legion's Becoming a Member leaflet is here.
However, this new branch will represent new opportunities for our Veterans, their families, and the wider community. Located in its new home at the Hub, the new branch will be available to members seven days a week, giving them the opportunity to make a considerable difference for, and in, the communities we serve; whilst enjoying the special bonds of membership that this new Branch will bring.
The best of RBL Branch support will be available to our Beneficiaries, whilst the new branch will actively search for new and innovative ways to fundraise and promote the RBL. Collaborating with the teams at Galanos House and the rapidly evolving Community Hub & Café, the new branch will be a modern example of RBL Membership opportunities. Remember, your support can be in any form, it is entirely up to you on the level of involvement you have.
If you would like to play a part in the formation of this Branch & support the RBL as a member, please contact us with the following information.
Name…………………………………………………….                RBL Members No (If applicable) ………………………………
Email………………………..……………………………                Tel No………………………………………………………………………
Contact us via [email protected] or pick up a flyer from the Community Hub & Café at
RBL Galanos House, Banbury Road, Southam, CV47 2BL
Membership of the Royal British Legion is open to you if you are over 18 years of age, whether you have served in the Armed Forces or not.
"We look forward to hearing from you."
---
In an exciting development, RBL St James's Branch has agreed on a formal affiliation with all of the Royal British Legion's six care homes.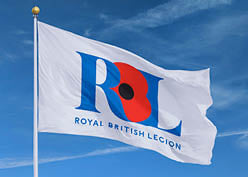 The homes, including five with specialist dementia care, are designed to be a home from home for our residents and visitors. They have created warm and welcoming atmospheres, with spacious rooms, beautiful outdoor spaces and relaxing lounge areas. As care homes designed for veterans and their families, there is also a unique camaraderie and their residents often establish strong friendships and bond over their shared experiences.
The Affiliation.
As part of the affiliation, RBL St James's Branch will be designating substantial funds annually, to support all the amenities teams in achieving satisfactory funding levels. The Operations Directorate will field all funding requests to St James's and prioritise them by the perceived benefit to our residents. This will ensure that we will be able to target funding more efficiently.
Just as importantly this page has been created to enable all of our care homes to promote their award-winning initiatives, the unique events and activities they provide for their residents and demonstrate why all our homes have a unique place in the care and support of our veterans along with their families.
Whilst this affiliation does not supersede any relationships that any care homes have with RBL Branches local to them, it does offer membership to our residents/families should they want to join the Royal British Legion where there is no local option available.
We hope that we have many opportunities to tell our members about the countless stories that reinforce the notion that the Royal British Legion Care Homes are amongst the very best in the sector.
Regards,
Editor
---