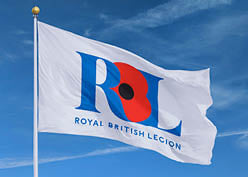 MESSAGE SENT ON BEHALF OF THE NATIONAL CHAIRMAN 
Marking the Centenary of the Royal British Legion – 15th May 2021 
  Our Founding History. On Sunday 15 May 1921, a wet and dreary day, a small number of ex-Servicemen walked to the Cenotaph war memorial in London's Whitehall. As Big Ben struck nine, four men representing societies that for three years had been rivals laid a wreath at the base of the memorial. On that wreath were the badges of the four organisations that would officially amalgamate to form the British Legion. 
 This moment was the starting gun for the Royal British Legion we know today. By Christmas of 1921 the ranks of our organisation had swelled to include 2,500 branches across the country, as well as overseas. These were the groups around which the armed forces community rallied after the First World War. They made change happen, fundraised during the Poppy Appeal, provided welfare locally and became the foundations for what has become the UK's largest Armed Forces charity.  
  Centenary Wreath Laying. One hundred years later we are proud to still have 2,500 branches, some with a history reaching back to 1921 and others established in the last decade. To mark the moment of our founding, we are recreating the activity of that day and our National President and serving personnel will lay a wreath at the Cenotaph at 0900 hours on Saturday 15th May, under the rule of six. That moment at the Cenotaph 100 years ago sparked the beginning of something much bigger and to demonstrate that we would like to invite representatives from branches to lay a wreath at your local memorial, or a memorial of your choice, either to coincide with the activity at the Cenotaph 0900 hours on 15th May 2021. 
 Direction. We are asking Branch representatives to lay a wreath at 0900 hours on 15th May 2021, on condition that this activity can be performed in a Covid-19-safe manner. Please visit your government's website to check the latest information on restrictions and guidelines:  
England: https://www.gov.uk/coronavirus    
Wales: https://gov.wales/current-restrictions   
NI: https://www.nidirect.gov.uk/articles/coronavirus-covid-19-regulations-guidance-what-restrictions-mean-you  
Overseas: please check your country's government website. 
The invitation for branches to lay wreaths is not intended to detract from the virtual Annual Conference on the 15th May and is a separate opportunity for branches to mark the centenary should they wish. 
Wreaths can be ordered from here and should be arranged by the branch no later than 30 Apr.  
Branch Media. If you are engaging with local media around this moment please inform your local Regional Press Officer at [email protected] 
  Social Media. We would encourage any photos of the wreath-laying to be shared on social media via your Branch, regional RBL or personal account, making it clear you are marking RBL's centenary and tagging the RBL accounts: 
Facebook: @OfficialPoppyLegion  
Twitter: @PoppyLegion  
Instagram: @royalbritishlegion  
On Twitter and Instagram you can also use the hashtag #RBL100 
Thank you for your support. 
Una Cleminson 
National Chairman 
Royal British Legion, Haig House, 199 Borough High Street, London SE1 1AA