MP Calls To Amend Immigration Laws For Families Of Commonwealth Soldiers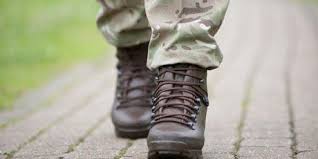 A SNP MP has called on the UK Government to urgently amend immigration rules to allow the families of Commonwealth soldiers serving in the British Army to come to the UK.  Drew Hendry MP was speaking on behalf of his constituent, Lance Corporal Dennis Omondi, originally from Kenya, whose daughter Ann was denied a visa to come and live with him.
Exemption
"Commonwealth troops should be able to bring their kids to Britain – if they fight for us, they should be able to live with us".  
Immigration minister Caroline Noakes said she could not comment on the specific case but insisted the Government was sympathetic and recognises the "contributions and sacrifices made by Commonwealth members of the forces". In February, the Home Secretary faced increasing pressure to change immigration rules so Commonwealth soldiers in the British Army could bring their families to the UK. Senior MPs called for serving Armed Forces personnel to be exempt from the minimum income threshold due to their service to the country.
Scrapping
Under current immigration rules, foreign workers must earn £18,600 to apply for their spouse to live in the UK. The minimum income requirement to bring over one child is £22,400 with an additional £2,400 for each child thereafter. A soldier's basic pay after training is only £18,600 a year, forcing many to take on second jobs to afford to move their families to the UK.
It follows the scrapping of British residency requirements for Commonwealth citizens who wish to join the Armed Forces. The Ministry of Defence (MOD) removed the need for Commonwealth citizens to have lived in the UK for five years before applying for service. Applicants from nations including India, Australia, Canada and Fiji are now considered for all roles in the forces, without having lived in Britain.
Significant and Vital
Since 2016, a maximum of 200 Commonwealth recruits were allowed to apply for certain jobs without meeting a residency requirement. All other Commonwealth applicants who have lived in Britain for five years have been eligible to apply. In November, Forces News reported how the Armed Forces are struggling to recruit enough personnel to fill a shortfall in their ranks. There are currently over 6,000 personnel serving in the UK Armed Forces from foreign and Commonwealth countries, with more being recruited each year to fill technical and specialist roles. The Army Families Federation (AFF) has said: "Commonwealth members of our Armed Forces make up a significant and vital part of the UK's defence capability and as a nation, we ask them to make significant sacrifices to do so."
---